Transparent Plastic CardsTransparent plastic cards are certainly unusual. They can be used as a special card for special customers: bank cards or credit cards for select customers of your bank, unusual loyalty cards suitable for collecting or fancy business cards.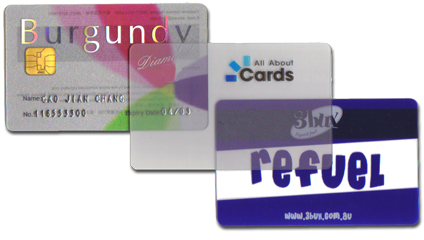 Transparent plastic cards may be completely transparent. Or the top layers may be dyed to give the card a semi-transparent look so that texts on the card are more comfortable to be read. In addition all variants for card producing are applicable: contact and contactless chips, signature panels, barcode, magnetic stripes, personalisation with embossing or thermo transfer and transparent cards in special dimensions and shapes.
Get in touch. We do have the fitting transparent card for you!